Outreach/Field Assignment/Practicum/Internship:
Price varies according to the course and cost of living in the nation where it occurs.
Personal expenses, visa fees, vaccinations, airfares, and airport taxes are not included in published course prices.
Making Payments
$1,000 deposit is due 45 days before Arrival Day.
All student fees are to be paid in full 10 days prior to Arrival Day.
Any exception must be documented in writing and approved by the specific school leader before the student arrives. In this case, no course completion certificate, no degree diploma, and no acceptance into other courses will be permitted until the fees are paid in full. Students enrolled in a course are expected to continue through the entire course.
Fees
Course Tuition: $4,395/quarter
Application Fee: $65 (non-refundable)
Room Deposit: $70 (refundable)
Key Deposit: $30 (refundable)

Course Withdrawal Refund Schedule:
Before arrival day: 100%

Leave on or before the 2nd Sunday of the quarter: 85%

Leave on or before the 3rd Sunday of the quarter: 70%

Leave on or before the 4th Sunday of the quarter: 60%

Leave on or before the 5th Sunday of the quarter: 50%

Beyond the 5th Sunday of the quarter: 0%
(Recommended)
The student payment portal offers the ability to pay by credit card, debit card or ACH. 
ACH (electronic check or e-Check) is only available for payments from U.S. bank accounts. ACH/e-Check payments are free.
Credit card and foreign debit cards – a 2.5% surcharge will be added to all payments (the University passes on the fees it is charged)
Debit Card – most U.S. debit card payments will be free, but it depends on the issuing bank.
Check or Money Order must be drawn on a United States or Canadian bank, or an affiliate of a U.S. bank, in USD funds, with micro encoding on the bottom of the check.
Make checks payable to "University of the Nations"

Mail check to 
University of the Nations
Attn: Student Accounts
75-5851 Kuakini Hwy #433
Kailua Kona, HI 96740
Include a note with the student's full name and the name of the course.
The student will be given credit for funds actually received by University of the Nations Kona, less any fees charged by the bank. For payments by wire, the payer must specify: 
Student First Name

Student Last Name

School Name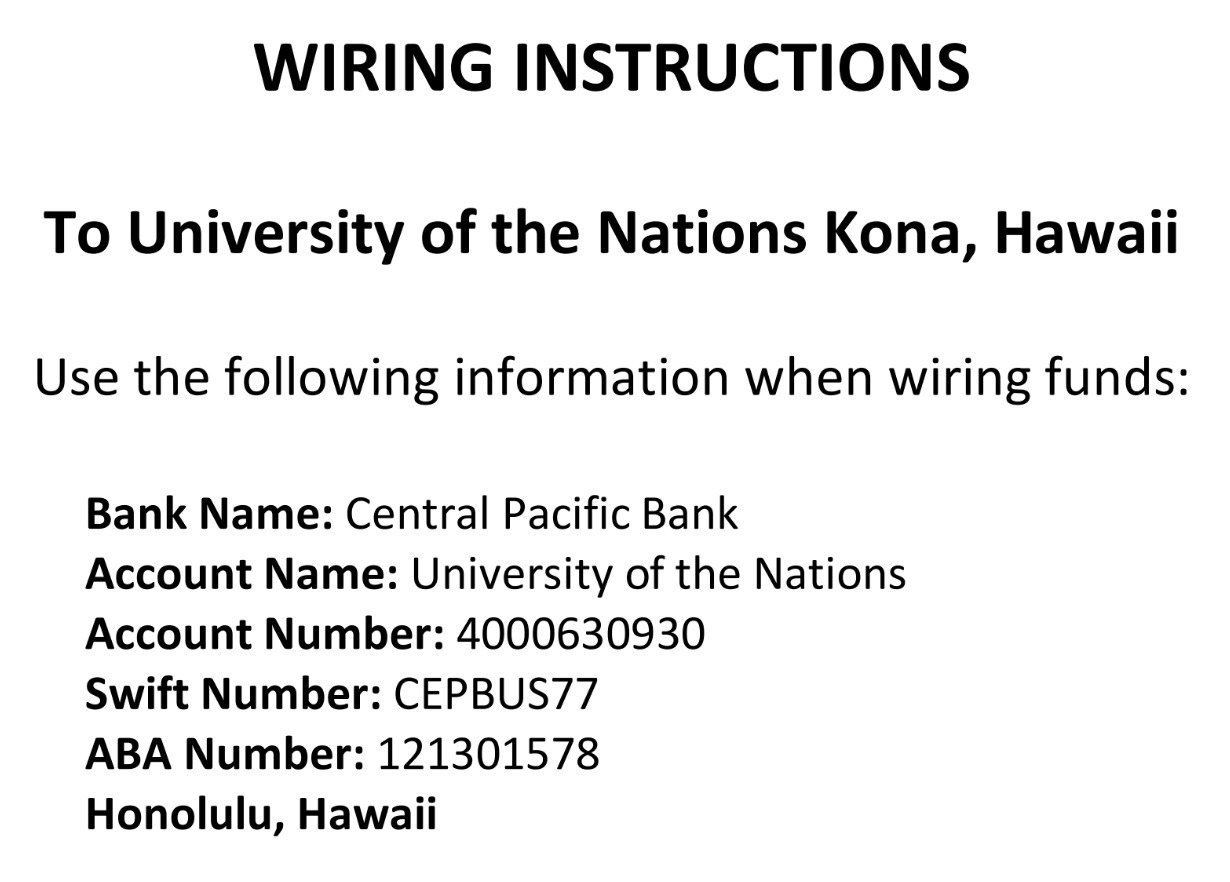 Developing Nation Tuition Discount
God has renewed in us a call to be both international and multicultural. The rising cost of our schools over the years has made them less accessible to international students. To change that, we have overhauled our budgets to be able to provide financial aid in the form of significantly reduced tuition costs for those from developing nations.
The University of the Nations International, using information supplied by the United Nations and other sources, ranks countries in three categories (A, B, C) based on their per capita income. Students from C or B category nations may apply for a discount, subject to availability and conditions. A list of countries by category can be found here.
Students from C category countries are currently eligible to apply for a discount of $1500. Those from B category nations can apply for a $750.00 discount. 
Tuition discounts apply only to the full cost of a course's lecture phase and do not apply to outreaches, practicums or field assignments. Country C and B Discounts CANNOT be combined with other tuition discounts, but MAY be used in addition to scholarships. Discount amounts and/or country assignments are subject to change at any time, at the discretion of YWAM Kona.
To apply a student must submit this application along with a copy of their passport to [email protected] at least 2 weeks before course arrival day. 

For questions regarding this discount, please contact the Financial Assistance Committee
UofN Kona also offers a small number of scholarships for students from developing nations. Contact the Financial Assistance Committee to find out more.
There are specific visa requirements for international UofN students studying in Kona. After a student has completed their application and is accepted, the Visa Desk will email further instructions specific to the individual. 
Non-U.S. residents are required to have F-1 student status to study at University of the Nations, Kona.
Students may not study at University of the Nations, Kona on visitors status (e.g. B-1, B-2, or ESTA/Visa Waiver Program], or M-1 student status. Canadian citizens are also required to obtain a Form I-20 and have F-1 status.
U.S. citizens, U.S. nationals, Lawful Permanent Residents (Green Card holders), citizens of Palau, citizens of CNMI, and those on dependent visas (e.g. H-4, R-2) which permit study, may study at the University of the Nations, Kona without restriction.
If you have further questions or want additional information prior to applying, please check the FAQ or email [email protected]
More Financial Information
Audited Financial Statements & 990 Tax Returns
The University of the Nations, Kona, Inc. equips its students for missionary service by following the Youth With a Mission motto: "To Know God and to Make Him Known."  Charitable gifts and contributions to the UofN Kona are tax deductible under the laws of the United States of America, section 170(b)(1)(a) of the Internal Revenue Code. UofN Kona Federal Tax ID is 99-0240539.
For more financial information, audited financial statements and 990 tax returns: