Imagine the view from the window seat of your flight. It's been blue and more blue for five straight hours—when suddenly mountains appear, covered in rainforest. Distant shorelines, white with foam surround lava-rock cliffs. Then you see it—those little pockets of paradise. Sandy beaches, white and black. Hawai'i isn't an idea anymore. It's reality.
So, here are 10 of our favorite spots on the Big Island of Hawai'i.
1. Hāpuna Beach
Hāpuna is the largest white-sand beach on the Big Island of Hawai'i. Known for its crystal-clear waves and stunning mountain views, it's a prime location for a beach day.
2. Mauna Kea
Mauna Kea is 13,803 ft (4,205 m) elevation, but from its volcanic base underneath the ocean, it's actually taller than Mount Everest. This means even on a tropical island, there are plenty of winter snowfalls!
3. Waimea
Waimea town is located roughly 45min drive from Kona. With its high elevation, its cooler temperatures and country scenes are a welcome relief from the average tropical heat.
4. Pololū Valley
Just past Waimea is the stunning Pololū Valley. Hike down through lush rainforest to the black-sand beach for your daily dose of adventure.
5. Hilo
The city of Hilo and its surrounding coastline is known for rainforests and waterfalls. It's located on the east coast, and a great under two-hour road trip.
5. 'Akaka Falls
'Akaka Falls is one of the Hilo region's most well-known waterfalls. Walk through winding forest paths to get a great shot of this beautiful place.
6. Waiānuenue (Rainbow Falls)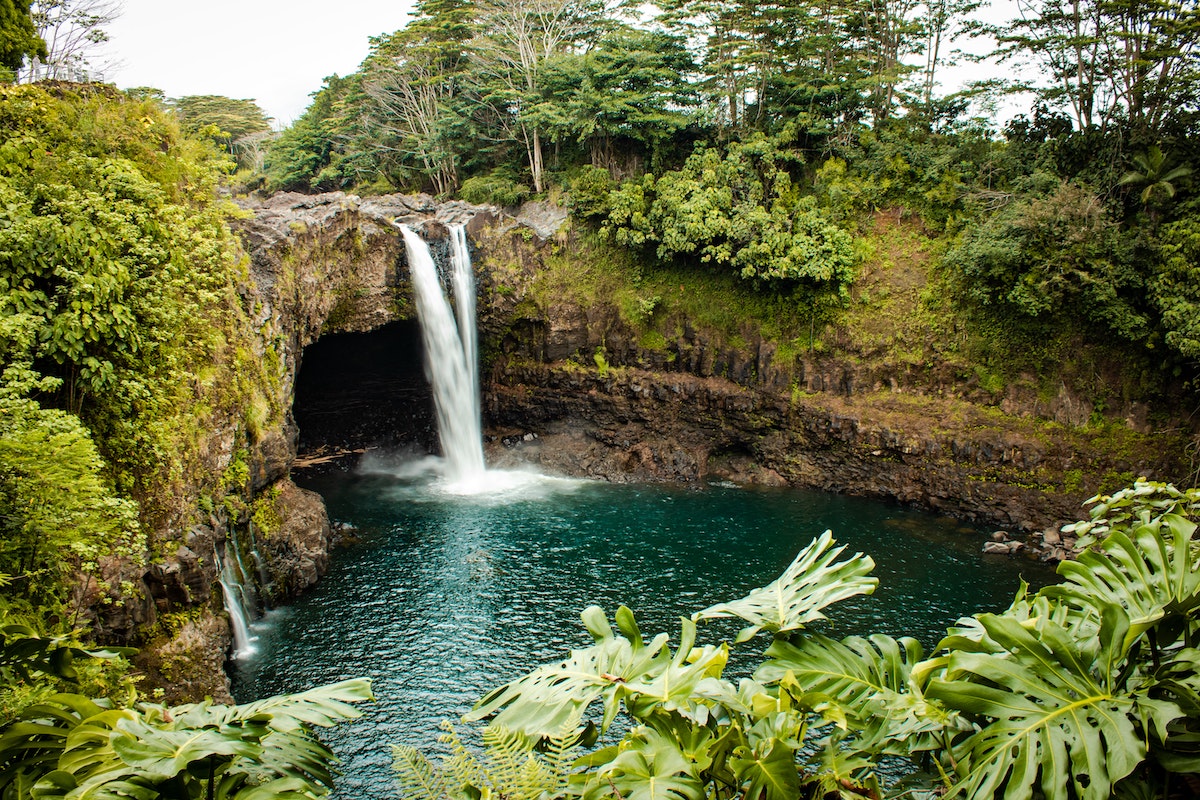 This other hideaway waterfall is commonly known as Rainbow Falls, which is a direct translation of its Hawaiian name, Waiānuenue.
8. Pu'uhonua O Hōnaunau National Historical Park
Pu'uhonua O Hōnaunau National Historical Park is located just south of Kona. Learn more of the history of the Hawaiian people and their rich heritage at this park.
9. Volcanoes National Park
Yes—it's real lava. Kīlauea is the most active volcano in the world, and the surrounding rainforest, lava rock fields, and various hikes are all part of the National Parks. This awestriking area is a must-see for anyone on the Big Island.
10. Manini'owali Beach at Kua Bay
Our personal favorite—a little slice of paradise. Commonly known as Kua Bay, this spot isn't large, so arrive early and as everywhere, please be respectful of those sharing their gorgeous island with you. It's a gift to be in Hawai'i!