The Hawaiian word for family is 'ohana—and when you arrive at YWAM UofN Kona, you're family. Our home is your home, our story is your story.
This means you're not a tourist, instead—you're part of the 'ohana. As you learn and receive, you're also here to serve and bless these islands. Your kindness will bring transformation to those you meet, and your humility will show God's heart for our community.
So, wherever you go—keep your heart and eyes open.
Even as you rest and have fun, look for opportunities to learn from locals and ways to give generously to the people you meet.
It's a gift to be here, and we can't wait for you to join us!
1. Hāpuna Beach
Hāpuna is the largest white-sand beach on the Big Island of Hawai'i. Known for its crystal-clear waves and stunning mountain views, it's a prime location for a beach day.
2. Waimea
Waimea town is located roughly 45min drive from Kona. With its high elevation, its cooler temperatures and country scenes are a welcome relief from the average tropical heat.
3. Lava Fields
Okay, okay—this isn't one location. The Big Island is known for miles on miles of lava rock fields from volcanic eruptions over the last 200 years. There are multiple hikes available, just make sure you wear sturdy shoes!
4. Pololū Valley
Just past Waimea is the stunning Pololū Valley. Hike down through lush rainforest to the black-sand beach for an day's adventure.
5. Hilo
The city of Hilo and its surrounding coastline is known for rainforests and waterfalls. It's located on the east coast, and a great under two-hour road trip.
6. 'Akaka Falls
'Akaka Falls is one of the Hilo region's most well-known waterfalls. Walk through winding forest paths to get a great view of this beautiful spot.
7. Waiānuenue (Rainbow Falls)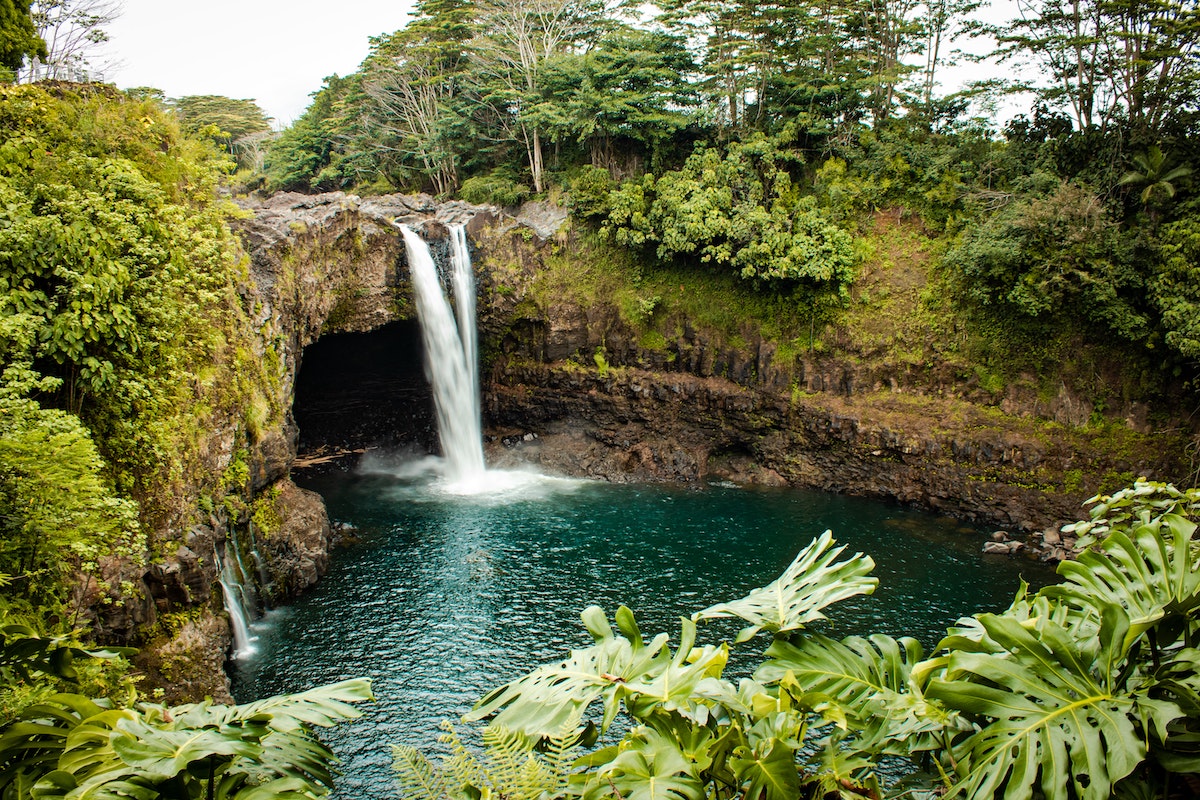 This other hideaway waterfall is commonly known as Rainbow Falls, which is a direct translation of its Hawaiian name, Waiānuenue.
8. Volcanoes National Park
Yes—it's real lava. Kīlauea is the most active volcano in the world, and the surrounding rainforest, lava rock fields, and various hikes are all part of the National Parks. This awestriking area is a must-see for anyone on the Big Island.
9. Manini'owali Beach at Kua Bay
Here's a little slice of paradise. Commonly known as Kua Bay, this spot isn't large, so arrive early and as everywhere, please be respectful of those sharing their gorgeous island with you. It's a gift to be in Hawai'i!
10. Downtown Kona
Finally, our favorite spot on the Big Island: Kailua-Kona (but of course we're pretty biased). Downtown Kona is about 5-10 minutes walk from our campus and we are so privileged to call this place home.